Do Projectors have sound? 2 Ways to get sound from Projectors
Projectors give us many things, and sound is one of them. For example, business signage and movie cinemas require not only video but also audio.
Many manufacturers now integrate speakers into their projectors. It is a handy feature and very useful for people who are often on the go.
Are you wondering because your device only shows pictures or videos but no sound? Do not worry! We are here to help!
Let's find out, "Do projectors have sound?"
Do Projectors Have Sound?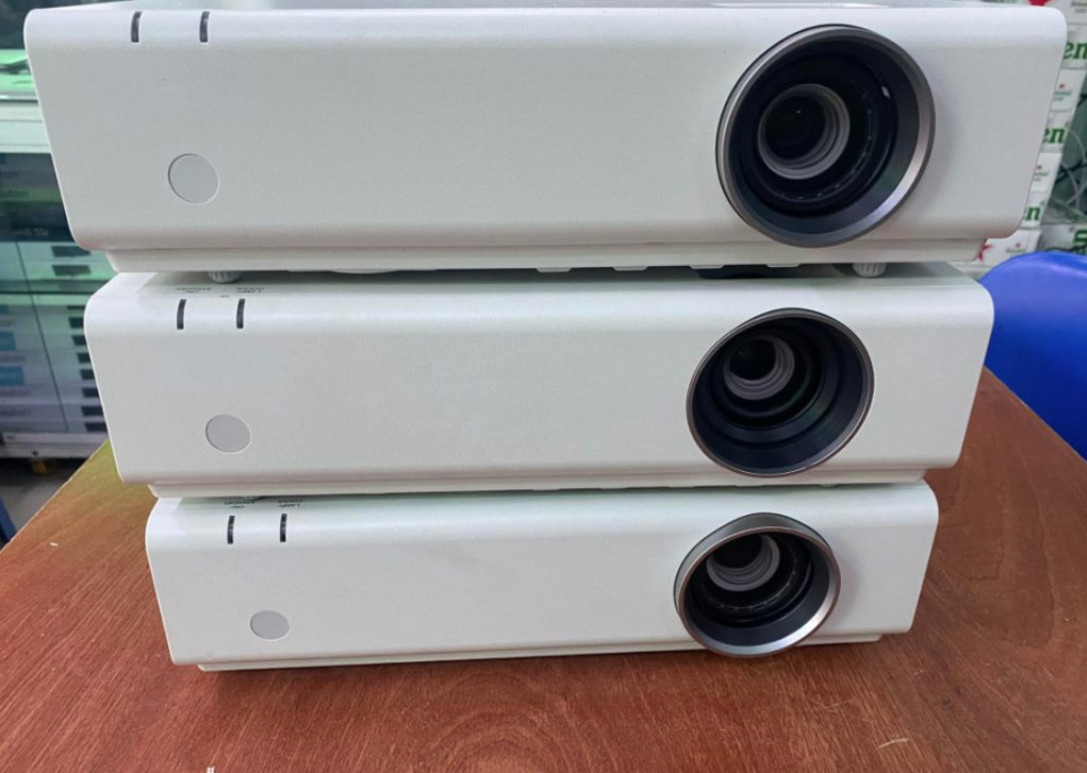 The answer is yes. Most projectors today have audio that accompanies the videos played.
Projectors were just devices used to magnify images but no sound in the early years after their birth.
That's why the movies shown at those times were all soundless, and a separate sound system would be responsible for playing the accompanying audio track.
However, thanks to the development of technology, the game has changed. Most modern digital projectors have built-in speakers, which allow them to receive before interpreting audio signals.
Many people still use their projectors with external speakers because they think their devices have no or feature mediocre audio. Yet, that's a misconception because modern projectors all feature excellent speakers or sound systems.
There is no denying that external speakers will sound louder and cover a more comprehensive range. But the built-in speakers are good enough to deliver quality sound in a small space.
It is not necessary to use external speakers unless you plan to use your device for a large audience. Also, external systems can be bulky, which can be inconvenient for travel by increasing the weight of your luggage.
In addition, external systems or speakers will also require connecting cables, which can create a mess and take up space.
Built-in speakers will be good enough for a classroom, a home theater, and a living room. On the other hand, technology improves day by day, allowing more newer models to be equipped with larger powered speakers.
While the built-in speakers may not be high-end, they're good enough to fill a room with great sound. If your device is silent, a connection error may be the cause.
Related: Is a projector more energy-intensive than a television?
How Do You Get Sound From A Projector?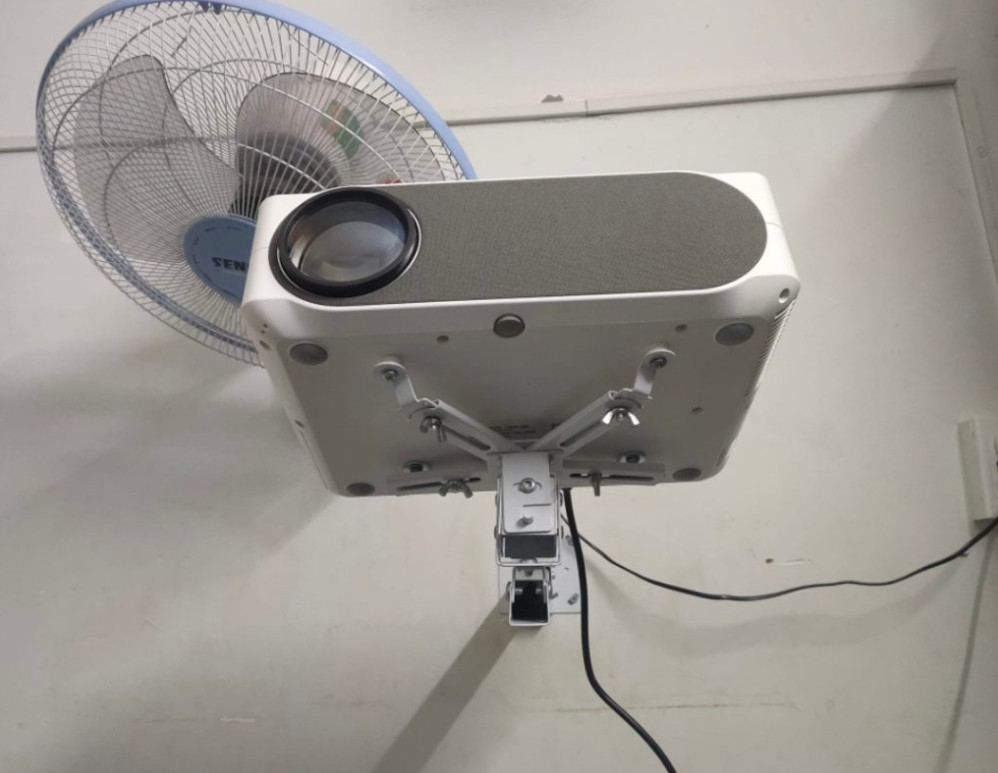 If your projector plays video but has no sound, you may want to double-check the connection type you are using. 
We recommend playing your video via HDMI as it has good-quality digital signal transmission, allowing it to transmit both video and audio.
Your source device can be a computer, a console, a cable box, and any other media device. Whatever yours is, you will still apply the same process.
How to Get Sound With HDMI?
Step 1: Buy a high-quality HDMI cable.
Step 2: Turn your source device and projector off.
Step 3: Plug the two ends of the HDMI cable into your projector's HDMI port and your media device.
Step 4: Plug the projector into a switch before turning it on.
Step 5: Switch on the source device.
How to Get Sound Over Cables?
If you have a projector and media devices that don't feature HDMI ports, the above method will not work. But the good news is that it is still possible to make an HDMI connection by utilizing the proper adapters.
Alternatively, you will also have another option. It is to go with another connector such as VGA or DVI, which only transmits the video signal.
You will only be able to get audio to your projector over another cable. Various audio ports, such as RCA, and AUX audio jack, are available to choose from.
AUX audio jacks are commonly used with audio-enabled devices, and they use a 3.5mm miniplug cable.
Here is how to utilize it:
Step 1: Start by unplugging or turning both devices off.
Step 2: Make a video connection by plugging both ends of the VGA cable into your two devices.
Step 3: Plug your 3.5mm miniplug cable into your projector's  AUX jack and the other media device. 
Step 4: Connect your projector to a power switch before turning it on.
Step 5: Switch on your other device. 
Step 6: Observe your projector and pick the appropriate input source for both audio and video.
FAQs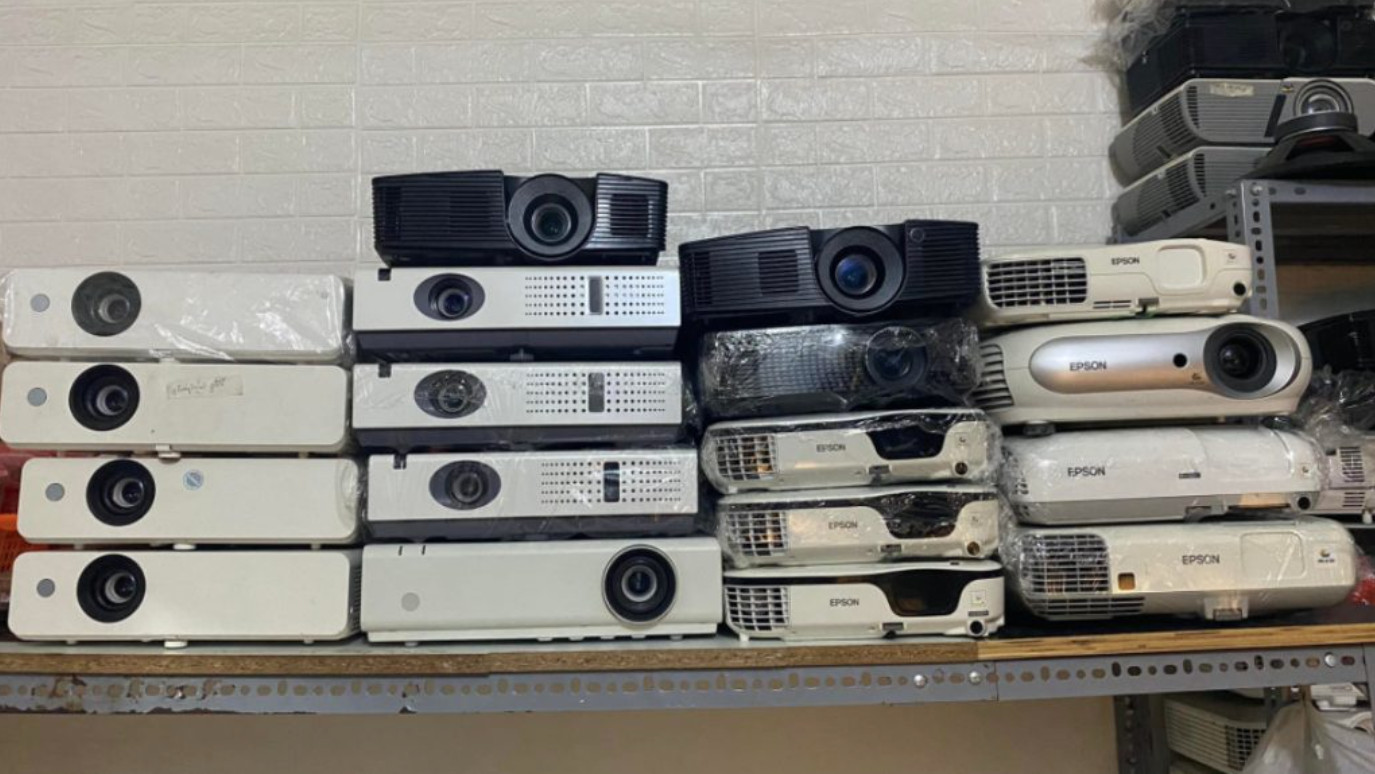 How do I make my projector louder?
If you have a projector that is not too loud, try to increase the volume first, as it is the only way to make your device sound louder.
Yet, built-in speakers can't always be loud enough to meet your needs. It could be because they have to struggle with noises and from projector fan that reduces audio quality.
We recommend connecting your device to an external speaker via a 3.5 mm jack if you need to get higher audio. Also, it is okay to connect to a larger surround or stereo sound system.
Related: Is Google Chromecast compatible with projectors?
Why does my projector have no audio?
Here are the most common problems you might be dealing with:
Bad connections
Bad cables
Loose connections
Audio input device settings
Projector settings
Software issues
How can I connect my phone to a projector?
It is possible to connect your smartphone to your projector by an HDMI cable. Yet, it will require an adapter.
If you use an iPhone, you will need a Lightning to VGA Adapter or Lightning Digital AV Adapter. If you are an Android owner, you can utilize a USB-C to HDMI adapter.
Can I connect a projector to Bluetooth speakers?
Not every projector has Bluetooth support. Hence, you need to make sure your device has that feature.
Conclusion
As you can see, the built-in speaker is not bad at all. It shows that you don't have to spend thousands of dollars on setting up speakers or an external audio system. Thank you for reading!