How to mount a Projector without Drilling? 5 common methods
After purchasing a projector, you will need to mount and secure it in the correct position. That's when many people will have to drill holes in the ceiling to hang it, and it is a painful task for many.
However, this is not possible for walls that are fragile or too old walls. Also, many people don't want to drill into their walls for aesthetic reasons.
The good news is that you can mount your device to the wall without making holes. So let's find out how to mount a projector without drilling.
How to Mount a Projector Without Drilling?
If you want to mount the projector to the wall without creating an additional hole, choose one of the following recommendations.
Projector Stand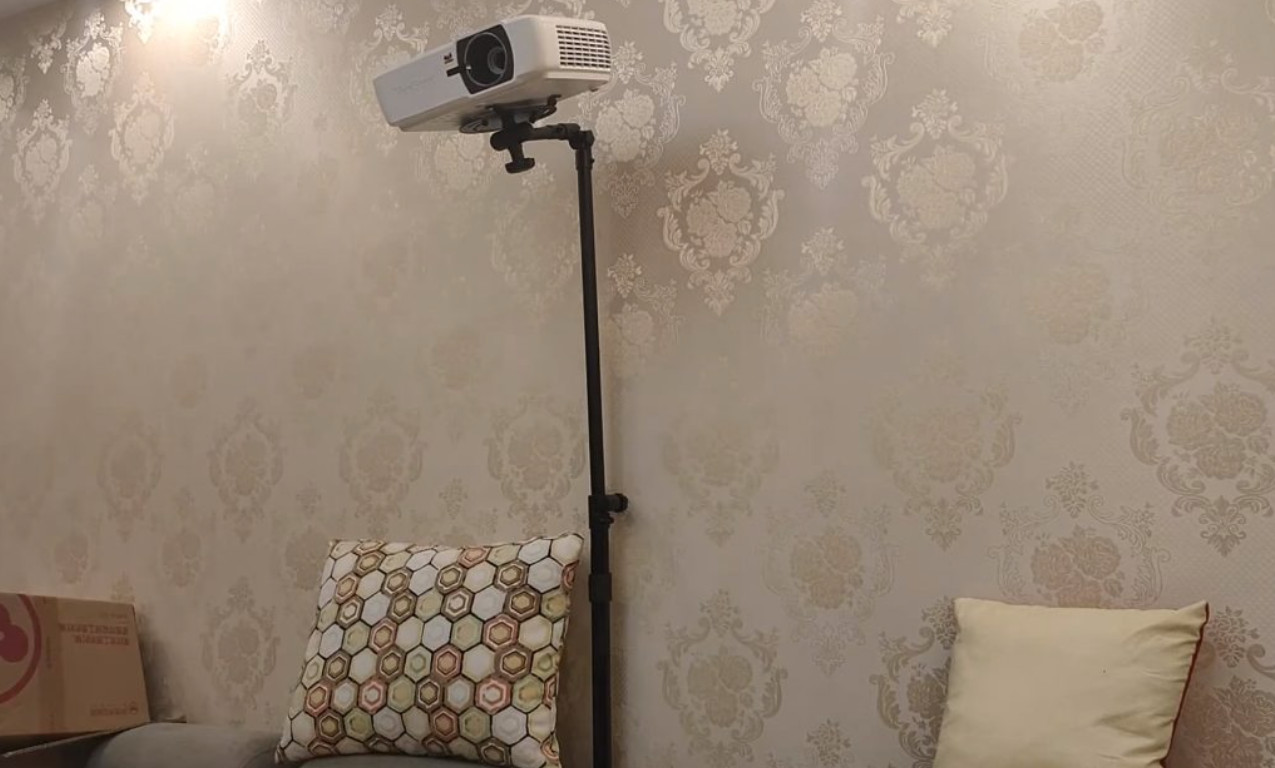 Using a stand for your device is the most common practice. This method does not require any complicated technical installation steps. Plus, you can let you start presentations or enjoy your favorite movies anywhere.
In addition, determining the device's location is no longer critical because this stand is lightweight and highly portable. You can take it with you anywhere with ease. It is possible to enjoy an outdoor movie with your family in the evening.
Use L-Shaped Wall Hanger
Using L-Shaped Wall Hangers is also one of the great options, which does not require drilling your wall. If you do not want to buy a stand, it is the way to go.
You have to use adhesive to stick these hangers to your wall. After that, it'll sit straight, allowing you to hang your projector on the hook.
On the other hand, if you want to save as many books as possible, it is possible to utilize PVC, wood, or other robust material. 
Related:
– How far from the Screen a Projector should be?
– Project Mobile Screen on the Wall Without a Projector?
Use Hardwall Hangers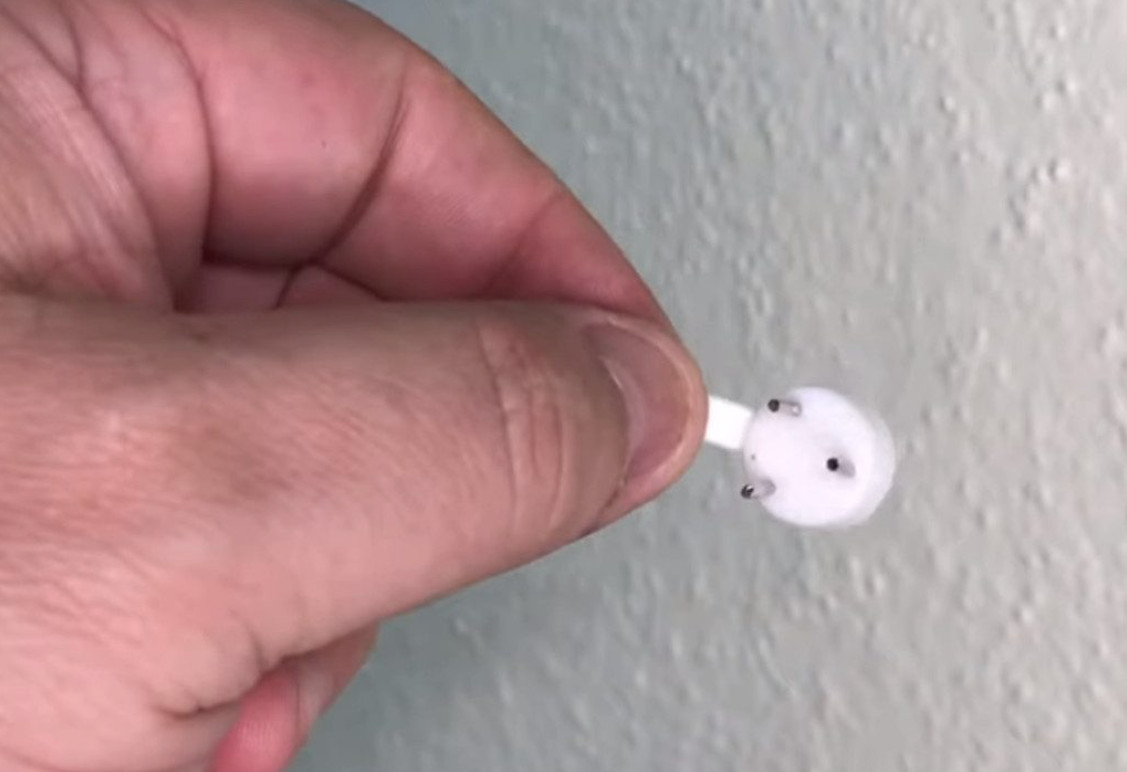 Using these hangers might also be worth considering if you need a sturdy yet cheap method to get the job done. The nails are too tiny so that they will not be noticeable.
Nails were mounted to the hangers. As a result, you must attach them to your wall and mount your projector. The fact is that these solid hangers are robust enough to carry a 60″ TV.
Also, remember that once you have mounted your device, it is not possible to adjust it vertically. So, it is essential to measure correctly before mounting.
Related:
– How to hang a projector screen from the ceiling?
– How to set up a Home Theater System
Using Hanging Strips
Hanging strips are often utilized to hang pictures, mirrors, paintings, etc. Yet, you can use them to mount your device without drilling your wall. Besides, the plus point is that they're very cheap.
Before attaching your hanging strips, it is essential to clean the surface using rubbing alcohol correctly. We recommend avoiding water or household cleaners as they may leave a slippery residue behind.
After preparing your wall, it is time to separate strips by tearing them apart before attaching one half to your wall and the other half to your projector.
After that, press them gently for half a minute to let them stick. If you want secure strips on your wall correctly, press each strip firmly for half a minute and wait about sixty minutes for the adhesive to bond.
Now, it is time to attach your device without any trouble. These strips should be strong enough to carry about 15 pounds of weight.
Brick Clamps
Using brick clamps may come in handy for those who don't want to damage and harm your brick wall. Of course, they have long been used to hanging anything.
You'll need to start by measuring the depth of your mortar and buy brick clips that will work well for that. 
These clips feature a saw-tooth edge, which can hold the brick. Before mounting, you must ensure the bricks feature straight edges and not chipped edges.
If you don't have enough time to do this yourself, it is okay to take help from a trusted expert.
Where to Mount the Projector?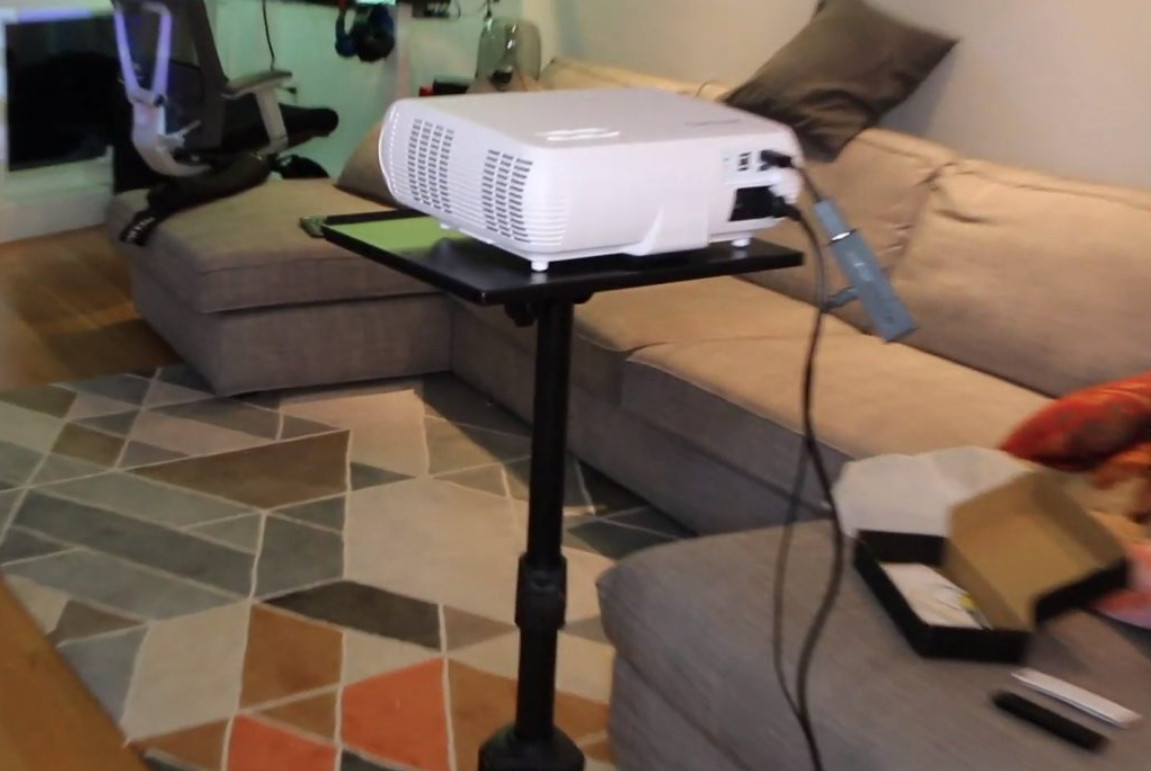 Choosing the perfect place to mount the projector is very important. Otherwise, you won't get the best results, and it may even pose potential risks to you and both you and your device.
First of all, it is best to avoid areas where the light will directly affect your device's visual quality. Plus, avoid hanging it near the hallway as it might annoy other family members.
We recommend mounting your projector in an area that is opposite your sofa. You will get a good view no matter which corner of your room you stand in.
Related:
– What are the Best Lumens for Outdoor Projectors?
– What Are Lumens?
Things to Know Before Mounting Projector
You will need to carefully consider the existing condition of your wall to choose the correct option. If chosen incorrectly, it can pose a lot of potential damage to both your device and your walls.
On the other hand, you also need to consider the height and weight of your projector before choosing one of the above, as most of the methods above do not allow you to adjust your device once it is attached to your wall.
Whatever option you choose from the list above, it is essential to ensure that the condition of your walls is good enough to hold your equipment. It is fragile or too old, and it will break one day, endangering you and those around you.
If you don't want to put yourself at any risk, it is wise to get help from someone tech-savvy or hire a professional to complete the project for you.
Conclusion
You got our detailed guide on how to mount your projector without making holes in your wall. Hopefully, you will be successful with your project.
If you feel that you do not have the technical knowledge and skills to get the job done on your own, contacting a professional is essential.
Thanks for being with us! Please share this article if it was helpful to you.